'He cannot cope': More than 100,000 people call for deportation of severely autistic man to be halted
'He keeps calling me, but he doesn't know how to articulate it. He will say: 'Am I going to die?' He knows that something isn't right. He's worried about how he's going to cope,' says mother of Osime Brown
May Bulman
Social Affairs Correspondent
Thursday 08 October 2020 08:22
Comments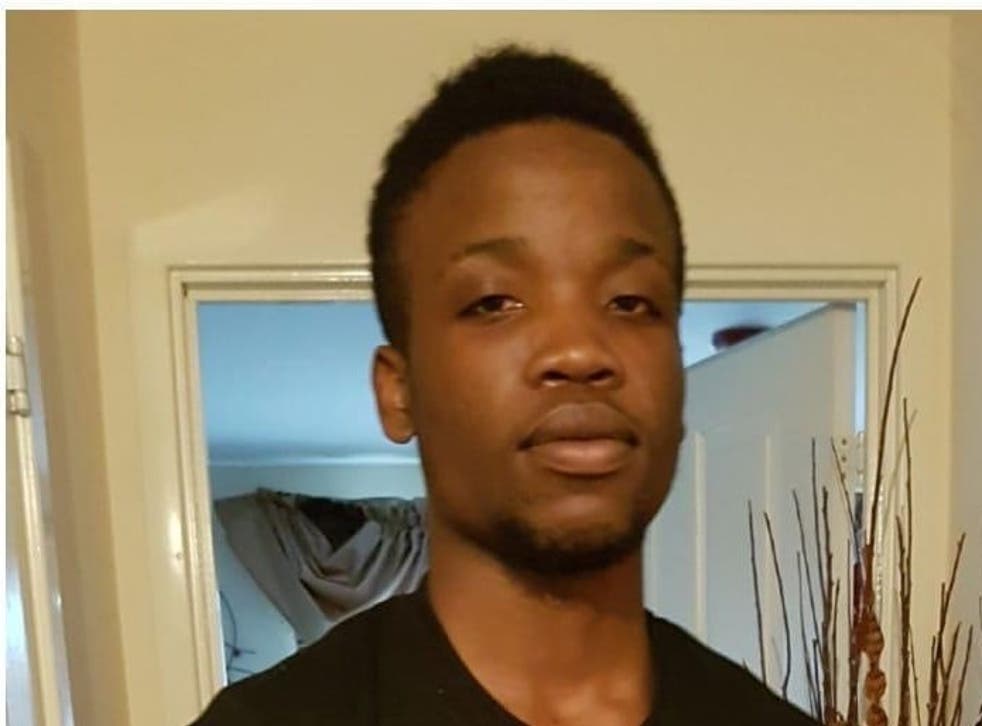 Joan Martin has a phone call coming through on the other line. "It's him," she says, referring to her son Osime Brown. "I need to answer."
About a minute later, Joan is back and she sounds teary. "He said he's having a shower and was asking whether he should wash his hair," she says. "That's how vulnerable he is. He always calls me to ask me whether he should wash his hair."
Brown, 21, is a severely autistic Jamaican-born UK resident who is currently in prison a two-and-a-half-hour drive from his mother's home in Dudley. He is nearing the end of a five-year prison sentence, and faces removal to a country he hasn't set foot in since he came to the UK aged four.
The Home Office issued Brown with a removal notice in August 2018 on the basis of a series of criminal offences he committed as a teenager, notably the theft of a mobile phone. His lawyers have expressed concern over the role of the controversial joint enterprise law in the case. He has been in jail since, and is currently at HMP Stocken in Rutland, where he has self-harmed on a routine basis – sometimes to the point where he's had hundreds of scars on his arms and body.
Brown was set to be transferred directly from prison to a removal centre at the end of his sentence this week, but his lawyers intervened days before arguing that this would be unlawful because of his autism and recent heart problems he has been experiencing – at which point the Home Office said he could be released to his home.
However, Brown is still facing removal. A court hearing is set to take place in the coming weeks where his immigration solicitor will argue that deporting him to Jamaica will place him at risk.
Martin, 54, a former mental health nurse, is becoming increasingly alarmed about the prospect of her son being deported. "He said to me out of the blue when I was last visiting: 'If they drop me off with the plane in Jamaica, I will just take a plane to Spain, and then come back to England'. I couldn't lie to him. I explained this wouldn't be possible.
"He just sunk into himself and went silent. It was like when you turn off the light and you see a bulb going down. He doesn't understand the full concept of what is going on. It's not good."
More than 100,000 people have signed a petition to calling for Brown's deportation to be stopped. During a protest outside the Home Office in London last month calling for the same thing, Labour MP Nadia Whittome told demonstrators the UK had "failed him, as it fails many thousands of black men and disabled people whose lives are seen as expendable".
Brown's family, along with a clinical psychologist and many who know him, believe his deportation marks a culmination of failings by statutory agencies over the years to acknowledge his learning disability, and subsequent failure to provide him with adequate support to cope with the challenges that come with it.
As a young child, he learnt to talk and walk late and developed a stutter. He received speech and language therapy at school, but he never had statutory assessment regarding his learning difficulties and special educational needs.
"They didn't take much notice of what was behind his behaviour," says Martin, talking about Brown's experience in school. "They used to say he was disruptive and rude. They put that down to being unruly. I had to fight and fight and fight to get him assessed."
It wasn't until after he was permanently excluded at the age of 16, following years of difficulties to do with social interaction at school, that his autism was diagnosed.
Shortly after this, Brown is said to have left home and moved into local authority care after telling social services that his mother was "too strict". Martin says this move was taken without her permission and that it caused great distress to the family, and was ultimately detrimental to her son's wellbeing.
It was while he was in the various care placements that Brown was arrested for stealing the phone from another young person along with a group of friends. The case took two years to come to trial, but he was eventually sentenced to five years in prison.
A psychological assessment of Brown by chartered psychologist John Hall, carried out in October 2019, states the way in which his life was managed when he was in care was "wholly misguided and extremely damaging", and that had he not been placed in care he may not have found his way into a life of criminality – which his mother puts partly down to poor legal advice.
"There is every reason to believe that, had [Martin] been listened to and instead of removing Brown from his family when he was barely 16, it would have been possible to support his mother to manage him in a situation where people loved him and were prepared to impose a structure on his life," states Hall.
On entering jail, the prison's healthcare service assessed Brown and found that he was suffering from an underlying anxiety disorder and emotionally unstable personality disorder, and post-traumatic distress disorder (PTSD).
Yet Martin claims the prison has failed to assist him with his autism or his mental health conditions. "They put nothing in place for him in the prison," she says. "They write things down, but in practice don't do it. They just lock him up. They don't take into account his autism. He's quicker to get upset now. His patience is shorter than it was before.
"That's what all the agencies have done, from school, to social services to the prison. They just did tick box exercises on him. He got nothing but punishment and isolation. Even when he cut his arms, they punished him for that."
Brown's solicitors are preparing to bring a civil claim in relation to the "unlawful and discriminatory" treatment he has received while in prison, and are investigating the possibility of bringing a claim in relation to the historic failings of the education authorities and social services in relation to his autism and other learning disabilities.
The mother says she can tell her son is worried about being deported. "I know he's frustrated. That's why he keeps calling me, but he doesn't know how to articulate it," she says. "He will say: 'Am I going to die?' He knows that something isn't right. He's worried about how he's going to cope."
A Home Office spokesperson said: "It would be inappropriate to comment while legal proceedings are ongoing."
A Prison Service spokesperson said: "We do not recognise these allegations and all prisoners have access to healthcare."
Register for free to continue reading
Registration is a free and easy way to support our truly independent journalism
By registering, you will also enjoy limited access to Premium articles, exclusive newsletters, commenting, and virtual events with our leading journalists
Already have an account? sign in
Join our new commenting forum
Join thought-provoking conversations, follow other Independent readers and see their replies